Events
Senior Band
Saturday, 28 October 2017 at 7:30PM - Celebration Brass
Venue - St Davids Cathedral
As part of its 30th anniversary year Goodwick Brass Band will perform at St Davids Cathedral together with Goodwick Community Band, Goodwick Youth Band & Phoenix Brass.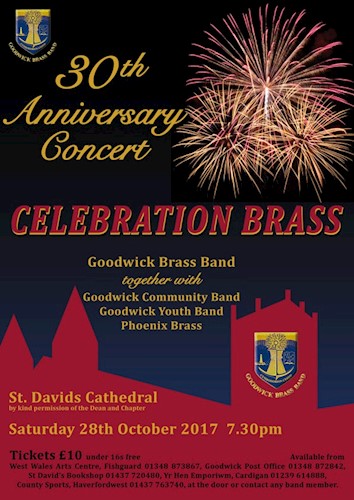 Tickets £10 (under 16's free) - Available from:
West Wales Arts Centre, Fishguard 01348 873867
Goodwick Post Office 01348 872842
St David's Bookshop 01437 720480
Yr Hen Emporiwm, Cardigan 01239 614888
County Sports, Haverfordwest 01437 763740
At the door or contact any band member.
Friday, 01 December 2017 at 7:00PM - Brassed Off Musical
Venue - Theatr Gwaun, Fishguard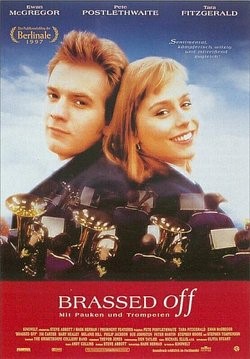 Goodwick Brass will participate in a 'Brassed Off' musical in association with the Fishguard Musical Theatre Society at Theatr Gwaun between the 1st and 4th December. 
The musical directed by Fishguard Musical Theatre Society's experienced director Clare Malone-Hallett promises to be an excellent adaptation of the original 1996 British comedy-drama film written and directed by Mark Herman which starred Pete Postlethwaite, Tara Fitzgerald and Ewan McGregor. 
The musical is set ten years after the year-long strike in 1984–85 by the National Union of Mineworkers in Britain. A Colliery is set to close as the accountants say there's more money in it shut than open, even after redundancy payments. It means 1200 job losses, a dying town and the loss of its brass band. But under the leadership of Danny, coughing with coal-dusted lungs, the band is somehow transformed into British champions with local lass Gloria whipping up the money needed to get them to the Albert Hall.
Community Band
Sunday, 05 November 2017 at 4:00PM - St Mary's Church
Venue - St Mary's Church, Newport
The Community Band will provide entertainment at St Mary's Church, Newport. 
Sunday, 17 December 2017 at 10:00AM - Carols in Cardiff
Venue - St David's Centre, Cardiff
The Community Band will be performing carols at the St David's Centre in Cardiff.